The Need for User-Controlled Content Filtering on YouTube
I rely on YouTube to stay updated on events that interest me, like the recent Apple WWDC. However, I have a problem. Since I've already watched the full keynote, I don't need video recaps from the tech channels I'm subscribed to anymore. But I also don't want to unsubscribe from those channels.
This becomes more problematic when you're subscribed to multiple channels that cover similar topics, like I am. All of these tech channels upload recap videos about WWDC, which clutters my YouTube Subscription feed. While I still want updates for new videos about other things from these channels, I simply want to dismiss videos about things I already know or am no longer interested in.
YouTube's Algorithmic Solution
YouTube actually has a function to hide videos on the Subscription feed. You can access it from the vertical three-dot menu next to the video title. However, I'm not sure what it actually does. Does it hide single videos, all future videos from the same channel, or something else? I've searched for documentation about this hide feature on YouTube Help but found nothing.
YouTube also tends to complicate simple things with their overengineered algorithms. This applies to video recommendations on the Home feed. From the same vertical three-dot menu, you have options like "Not Interested" and "Don't Recommend Channel."
But what do "Not Interested" and "Don't Recommend Channel" really do? The documentation suggests that they only tune the recommendation algorithm, which can still be hit or miss.
While I understand what "Don't Recommend Channel" does, I'm still unsure about what "Not Interested" does. When I select "Not Interested" for a video, does YouTube stop recommending similar videos from the same channel, similar videos from other channels, or something else?
YouTube Needs to Simply Copy What Others Already Did
Unlike other social media platforms like Twitter, Instagram, and TikTok, YouTube lacks a native feature where users can set certain words to hide posts, comments, photos, or videos containing those words from appearing in the feed and notification.
This feature is called "Mute and Block" on Twitter and can be accessed from Settings > Privacy and Safety > Mute and Block. You can input words to hide them temporarily or permanently.
Instagram takes it further with a feature called "Hidden Words" in Settings > Privacy > Hidden Words. It allows you to hide certain words from comments, direct messages, and posts.
TikTok also allows filtering out keywords in videos on the "For You" or "Following" feeds. This feature can be accessed from Settings and Privacy > Content Preferences.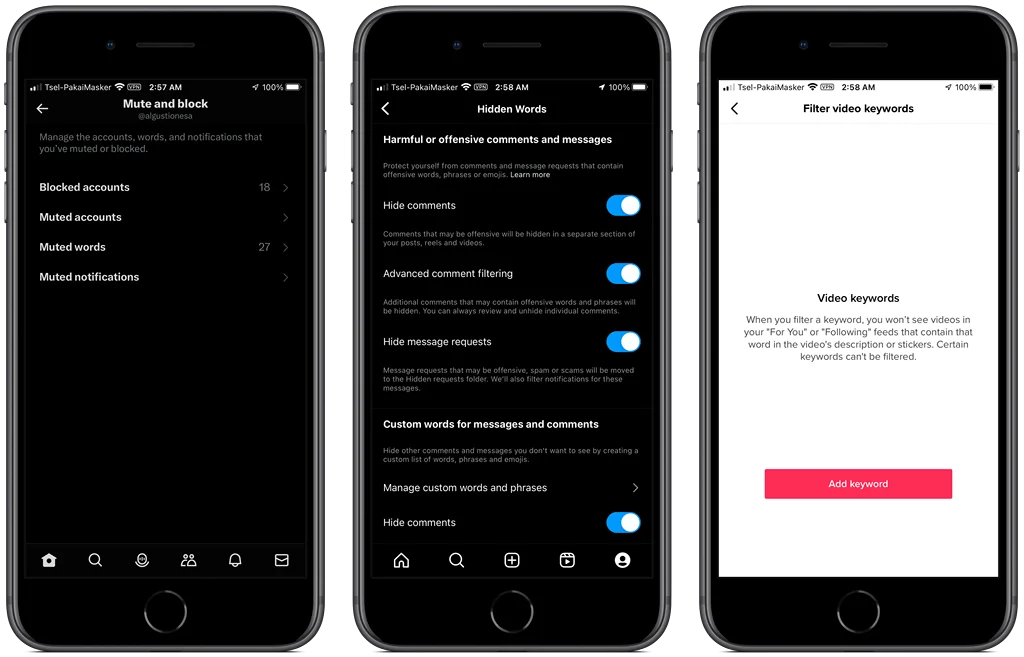 I've thoroughly searched through YouTube's settings and can confirm that they don't offer the same capabilities as the other platforms, both in the app and on the web. YouTube doesn't provide a way to do this, like Twitter, Instagram, or TikTok does, where users have full control.
Although YouTube has the ability to filter words before they appear in the comments section, it's more suitable for channel owners than for viewers like me.
I'm not sure if there's a workaround, like using a browser extension similar to the one I use to hide YouTube Shorts. However, I believe that adding a functionality to hide videos based on certain words on YouTube should be technically feasible and relatively easy to achieve. Even a YouTube intern could potentially implement this feature in a relatively short amount of time before their internship ends.
If you happen to work for YouTube or have a connection to the YouTube team, I kindly request that you pass this message along to them.
I desperately need a simple, user-controlled, keyword-based content filtering on YouTube.