Spark Mail Review: An Email Client I Love to Hate
For years, I have been using Apple Mail as my default email client, and it has worked pretty well. However, a few weeks ago, it started behaving annoyingly, which prompted me to look for another email client app to replace it.
I tried out several popular email clients, but none of them quite hit the mark until I stumbled upon Spark Mail. In this brief review, I'll take a closer look at Spark Mail for macOS and see whether it's a good fit for your email needs.
So, let's dive in and find out!
What I Like
First of all, let's talk about speed. One of the things I love about Spark Mail is how quickly it loads. It's lightning-fast and doesn't waste any time getting me to my inbox. Plus, notifications are delivered almost instantly, which is a huge improvement over Apple Mail.
But it's not just about speed – Spark Mail also looks great. The UI is sleek, modern, and pleasing to the eye. It's easy to navigate.
Another thing I appreciate about Spark Mail is their customer support. When I encountered an error while setting up the app for the first time, I reached out to their support team and they were incredibly helpful and responsive.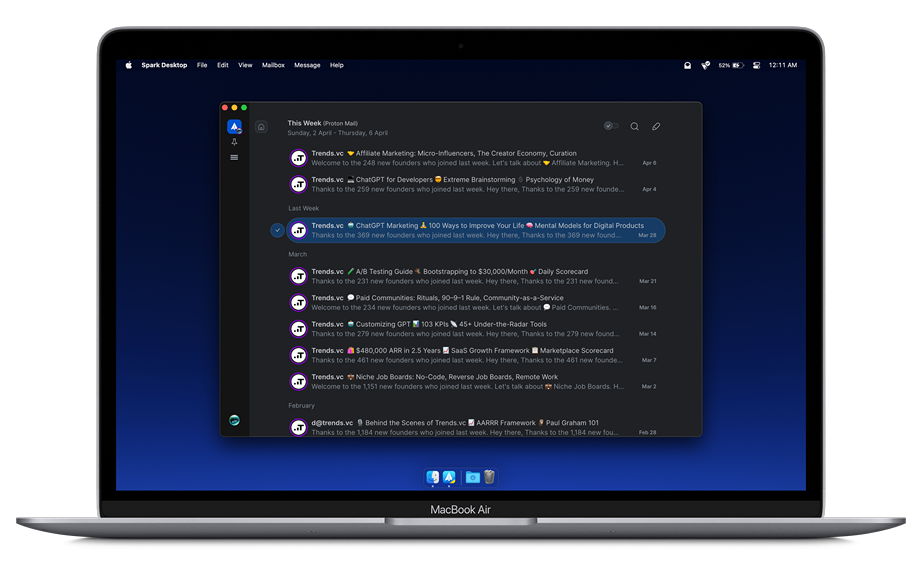 One thing that sets Spark Mail apart from other email clients is that they don't heavily promote their premium version. While it's available for those who want it, the free version of Spark Mail is already packed with features that make it a great email client.
And speaking of features, Spark Mail has everything I could want in an email client. From smart inbox organization to email scheduling and snoozing, it checks all the boxes for what I consider to be an ideal email client. Overall, I'm really happy with my switch to Spark Mail and would highly recommend it to anyone looking for a new email client.
What I Don't Like
While I appreciate many things about Spark Mail, there are a couple of things that hold me back from using it as my primary email client. The first issue I've encountered is crashes. After using the app intensely, it suddenly crashes without any error message, and this has happened several times. It's frustrating and interrupts my workflow.
The second issue is that Spark Mail doesn't quite suit my workflow. I prefer a simple email workflow that involves composing, replying, archiving, and deleting. I don't need fancy features that only add extra effort without much benefit for me.
Unfortunately, Spark Mail tries to invent new features that disrupt my workflow, such as the "Done" feature. "Done" is not the same as archiving, and it uses the "Archive" shortcut that I usually use, and it cannot be modified.
While almost all shortcuts can be customized, I haven't found any way to customize the "Archive" shortcut to suit my preference. Archiving emails can only be achieved through "⌘ K" and then navigating to "Archive", which adds additional steps, whereas usually it's just a press of a key.
Lastly, while I appreciate the convenience of paid software that makes my life easier, I can't justify the Spark Premium subscription price. I already pay for Proton Unlimited, and I don't want to spend more just for an email client that doesn't suit my workflow.
Conclusion
Overall, after using Spark Mail for several weeks, I think it's a good email client. The free version is enough to supplement my email-related work, and if you have the budget, paying for the premium version may be worth it.
However, for me, it's not the right fit. It changed my email workflow that I've been familiar with for years, which just wasted my time. Additionally, the app crashes were too annoying for me, even though they may be easily fixed in the next software update.
After updating to macOS 13.3, I decided to switch back to Apple Mail, and it looks like the problems I faced with Apple Mail in macOS 13.2 have been fixed since it doesn't behave strangely anymore. So, as for Spark Mail, I have abandoned it and switched back to Apple Mail.